April 09, 2010
It is not new. It has happened already in recent times but we must talk about the same topic over and over.
Some small Spanish TV station -public, thus paid by Catalans too, has insulted the whole Catalan nation once more. With the excuse of the calling to public examination for teachers of Catalan by the Aragonese government, this TV station has made a supposed parody of this examination, urging the applicants to teach Catalan and 'everything it represents', such as 'mastering the stealing and blackmailing' apart from other disrespects against the Catalan language.
However, in front of such serious insults towards the Catalan people, none of the so-called 'defenders of the Catalan dignity', hence, politicians and other representatives, have come forward to demand an apology by the Aragonese TV channel or its politic representatives.
In front of such offense, Santiago Espot, CEO Catalunya Acció, has published the following public note as follows:
Barcelona, April 8th 2010. The public TV of Aragon has broadcast a gag of xenophobic character against Catalonia, branding Catalans as blackmailers. In front of such ignominious attack, the President of Catalunya Acció and promoter of Força Catalunya, Santiago Espot, has shown his indignation for the silence of all parties that should defend the dignity of Catalonia and that, in this deliberate attack from the public Aragonese TV, have not defended Catalonia.

In words by Santiago Espot, 'everything is a sample of the xenophobic character of the Spanish public media against Catalonia, which do not let escape any occasion to erode the dignity of our Nation'.

Santiago Espot added 'and it is in this sense that the passivity of the political establishment of our country, and our Government, has to be denounced. The Government that tolerates that a sister party -Aragonese socialists-, insult our country, this time through their TV station'.

To Santiago Espot, the Aragonese Government must end broadcasting this program that only represents an attack to the dignity of Catalonia.
However, Spain do not tolerate that samples of similar 'parodies' come out from Catalonia. In July 2008, not long after the Spanish Government published the so-long waited fiscal balances, which officially certified that Spain plundered an 8.7% of the Catalan GDP -at least, because the method used was very dubious to the opinion of several well-renowned economists such as Ramon Tremosa-, Lluís Suné, local Councillor in Torredembarra (Catalonia), published this picture on his blog.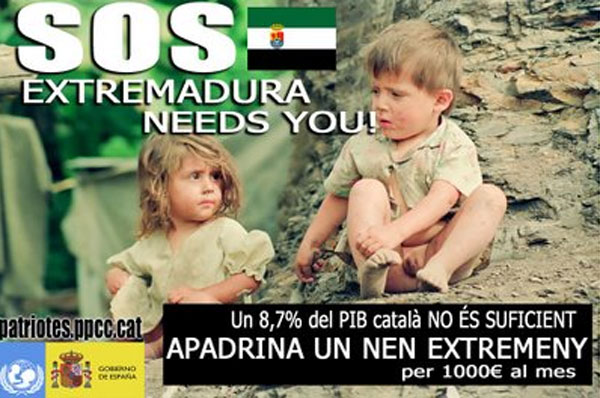 The legend "An 8.7% of the Catalan GDP is not enough. Sponsor a child from Extremadura for €1000/month", caused profound outrage in Extremadura, which initiated legal action against Suné. Lluís Suné then, had to delete the picture from his blog and publicly apologise for that.
Will we see similar action against form the Catalan Government for the aggression by Aragon against Catalonia? Probably not, because attack on Catalonia comes for free. Only very determined voices, like Santiago Espot, and Catalunya Acció, will never cease to denounce the attempts to offend our Nation.
Jordi Margalef
Member Catalunya Acció

Labels

Blog Archive

Contact Us
Please click
here
if you have a comment, suggestion or would like to let us know your opinion about the blog or Catalunya Acció.